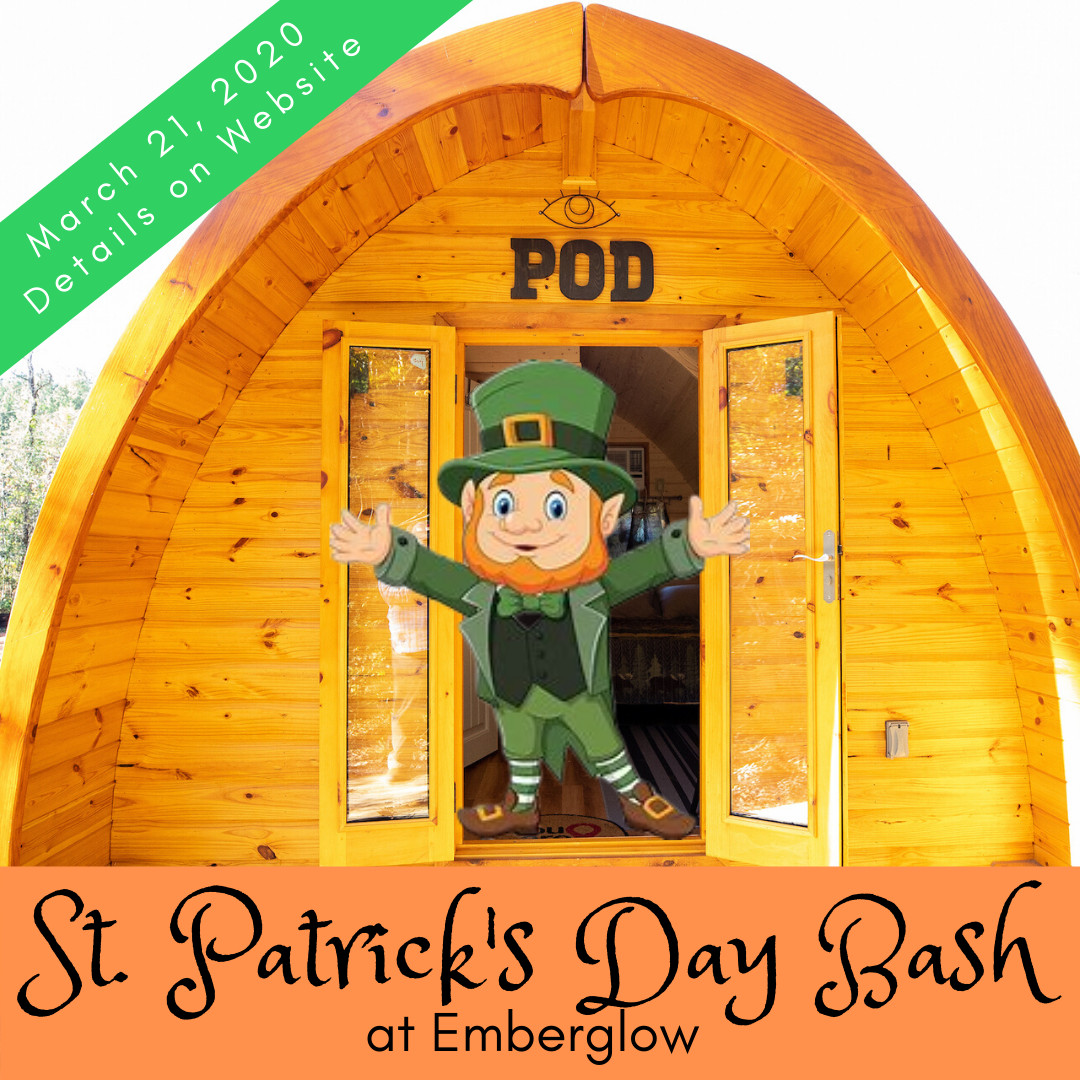 St. Patrick's Day Celebration at Emberglow
Emberglow is excited to host a St. Patrick's Day event on March 21, 2020.
Pack the kids, all of your green attire, and your favorite Irish beer and come celebrate Saint Patrick's Day at Emberglow Outdoor Resort the weekend of March 20-22, 2020! Our themed St. Patrick's Day festivities will take place on Saturday March 21, 2020, while our amenities and unique lodgings guarantee the entire weekend will be fun for the whole family.

Saturday March 21 festivities will include:
Live Music from the Federal Clan King
Irish Dancers
Traditional Irish fare
Bonfire with S'mores and shenanigans
Lucky Leprechaun Scavenger hunt for kids
Wear your Green! Show your St. Patrick's Day spirit by wearing your festive Irish gear. The most festive guest will win a free night at Emberglow in one of our vintage campers! The winner will be voted on Saturday evening around the bonfire.

Kids stuff – Children are welcome at all festivities. Specific kid-friendly activities will include a scavenger hunt and inflatables.

Irish Dinner Package – Option add-on buffet of traditional Irish fare plus three beverage tickets. ($20 per adult / $10 for children 12 and under)
Emberglow St. Patrick's Day 2020 T-shirt: ($15 for adult sizes (unisex traditional fit t-shirt) / $10 for children's sizes)
Viking Dash Trail Run 5K, 10K 13.1K – Add some physical activity to your weekend, with the Viking Dash Trail Run which takes place Saturday morning at the Tryon International Equestrian center. (15 min away). We will give participants a FREE Green Emberglow Tshirt if they wear it for the race.
Festivities are for registered guests only. To reserve your spot, visit our website. After booking, you will be emailed a google form where you can select the number of adult and children's meals and t-shirts you'd like. These will be charged to your credit card on file on our next business day and you will receive a separate receipt.
Contact us at frontdesk@emberglowoutdoorresort.com, or 828.625.2205 with any questions.
May the luck of the Irish be with you!