Emberglow
Promotions & Packages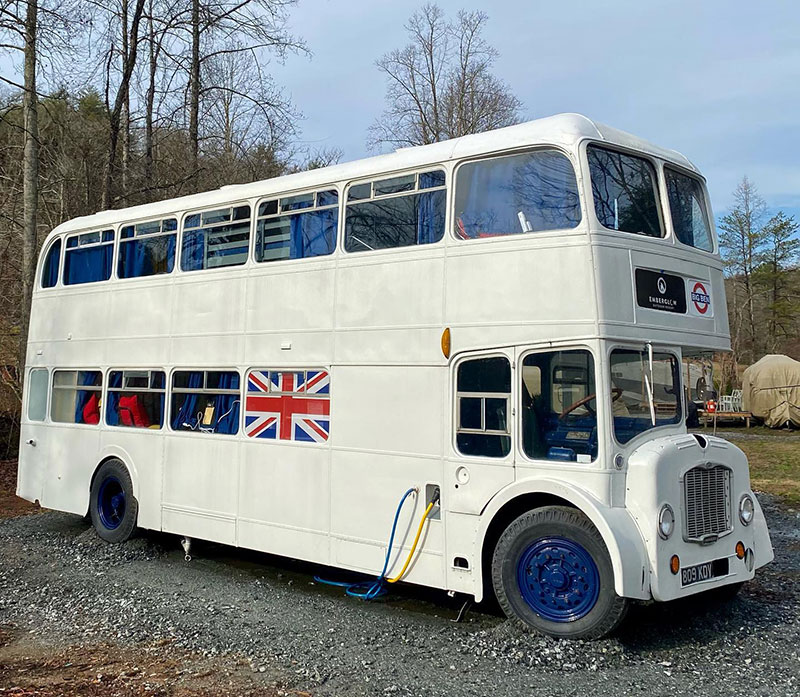 Introducing Big Ben, a 1962 Double Decker Bus
available to rent for all dates beginning 2.1.22
Downstairs is a kitchenette with the coolest Union Jack flag, a dinette, and a lounge area. In an amazing feat of engineering, there is a full bath inside the phone booth (ok, maybe it's just behind the door).
Head upstairs to find a king-size bed, twin bunks, and the coziest nook up front that is perfect for curling up with a book or even a sleeping area for a kid.
Big Ben is sure to transport you into vacation mode whether you're imagining yourself cruising the London streets, heading down a long and winding road on a magical mystery tour, or in strawberry fields forever.
Book your stay in Big Ben now!
Store & Stay Winter Package
Enjoy Your RV All Winter with Store & Stay
Store your RV at Emberglow in December, January, & February, with unlimited weekend access!
Choose Store & Stay for 1 month ($550/month) or all 3 months ($1500 for the entire winter).
Emberglow can be your special winter retreat as you enjoy holiday events & beautiful winter scenery.
How to Redeem
Please contact the Emberglow Office at 828.625.2205 or frontdesk@emberglowoutdoorresort.com to get full details about the Store & Stay Package & book your winter home away from home.