At Emberglow Outdoor Resort, every guest reservation is important. We look forward to hosting your Lake Lure outdoor experience and want your getaway to be as relaxing as possible. Please read the following policies thoroughly to ensure you have all the information you need for a smooth, relaxing, enjoyable stay.
Cancellations
In the unlikely event that you must cancel or transfer dates, please see the applicable policy below and then call 828.625.2205 to initiate the cancellation.
If you would like to reschedule your reservation and today's date is 14+ days from your check-in date, there is no fee to do so. If you choose to cancel your reservation and today's date is 14+ days from your check-in date, a flat fee of $25 will be charged for all lodging and RV sites. There is no fee for primitive tree houses and primitive campsites.
If you would like to reschedule your reservation and today's date is 2-13 days from your check-in date, a flat fee will be charged. $50 for lodging sites, $25 for RV sites, and $10 for primitive tree houses and primitive campsites. If you choose to cancel your reservation and today's date is 2-13 days from your check-in date, a fee is applied for each cancelled night. $50/night for lodging. $25/night for RV sites. $10/night for primitive tree houses and primitive campsites.
Within 48 hours from time of check-in, refunds and credits are unavailable.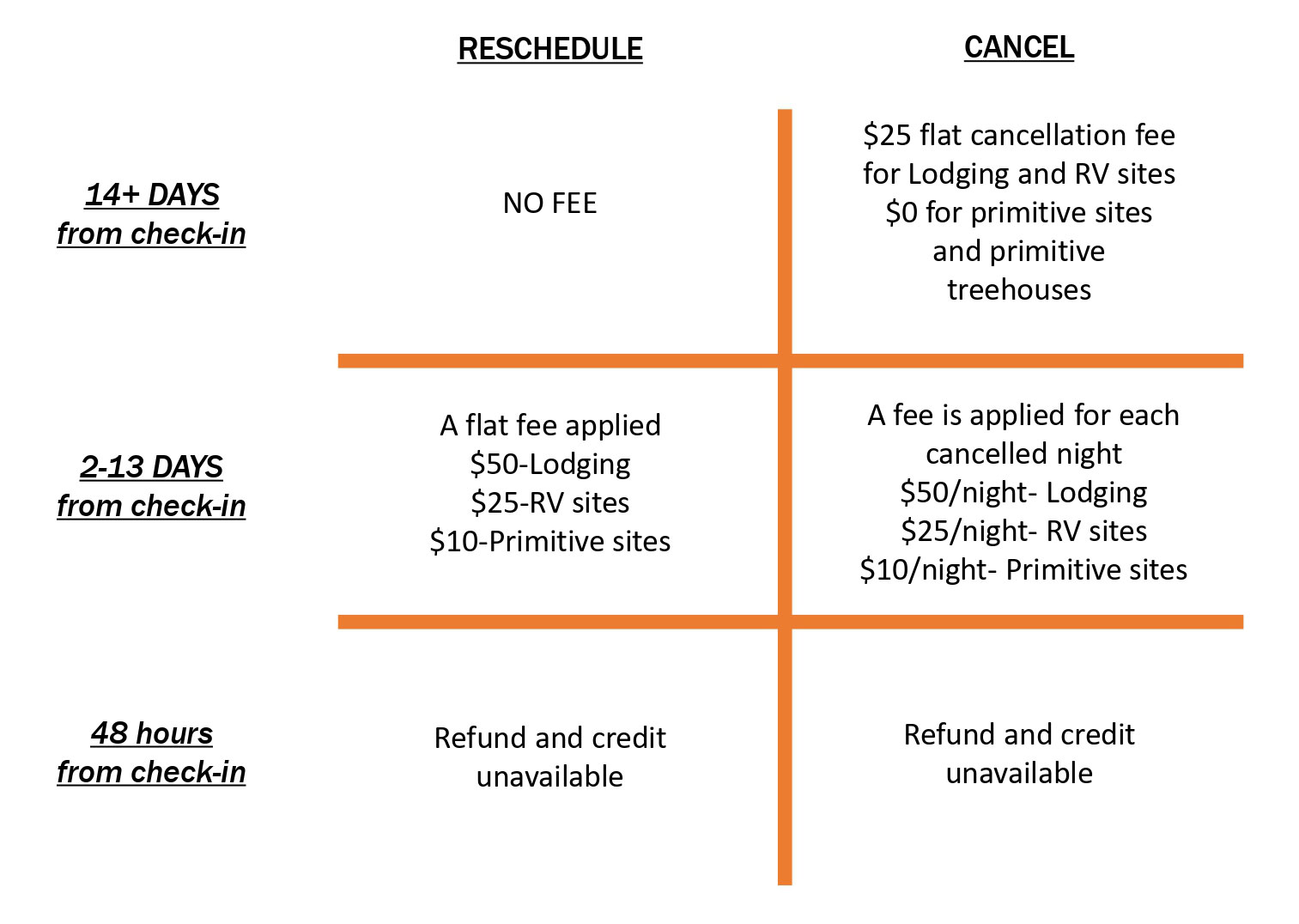 Refunds
All holiday and special event reservations are non-refundable. We do not issue refunds due to inclement weather. Additionally, we do not provide refunds for early guest departure, whether by choice or due to eviction for violation of park policies.
Arrival / Departure Information:
Check-in
Check-in: 3:00 PM
The registered guest responsible for the unit/site must be at least 18 years of age and must provide a valid government issued photo identification at time of check-in. That person must remain on site for the duration of the reservation. A credit card must also remain on file for incidentals.
Early check-in is not guaranteed and varies in availability for each reservation. Early check-in must be approved and arranged prior to your arrival. Early check-ins can be requested for as early as 1:00PM and a $5 early check-in fee will be charged for each hour early prior to the 3:00pm check-in time.
If you believe you will be arriving after office hours, please call 828.625.2205 in advance to make arrangements. Our office staff will assure that each guest has a late check-in packet arranged and the details will be shared with you over the telephone.
Check-out
Check-out: 11:00 AM
To make sure we can prepare for and honor incoming guests, all guests must vacate no later than 11:00am. Late check-outs are not guaranteed and must be pre-approved and arranged with the front desk. If available, late check outs cost $5 an hour and these times cannot exceed 1:00pm. For stays approved to exceed 1:00pm, an additional night will be charged. For our lodging unit guests, please refer to the checkout procedures listed in each unit and on our website.
Quiet Hours
Quiet Hours: 10:00 PM – 7:00 AM
Generators, diesel engines, and bright exterior lighting may not operate during quiet hours. The playground and pool close at 9:00 PM or dusk, whichever comes first. The jump pad cannot operate inside of quiet hours. If you are arriving inside of our quiet hours, please respect your fellow campers. No impact tools or other loud devices shall be used at this time. No loud music, excessive noise, or disorderly conduct will be tolerated. No visitors during quiet hours.
Visitors
Visitors must register at the Campground Office between 9:00 AM and 6:00 PM and purchase an Emberglow Visitor parking permit for $5 per day. Emberglow staff reserve the right to limit additional vehicles. Visitors must follow all Emberglow Rules & Regulations while on site and registered guests are responsible for the behavior of visitors. No visitors during quiet hours. If your visitors cannot fit on your designated site parking area, please contact the office for alternative options. Parking on the grass is not allowed at any time.
Lost Keys
A $50 charge will be applied to the credit card on file for unreturned keys.
Facility Use Information:
Accessibility
We have three ADA-accessible bathrooms on site, and an ADA-accessible unit. Please call for additional information or with special requests.
Bathhouse / Comfort station
Restroom and shower facilities are available on site. Due to Board of Health Regulations, animals are prohibited in the restrooms. A sink for washing dishes is available outside the Comfort Station.
Damage / Loss
Registered guests will be liable for the full cost of any damage caused by the guest (or their visitors) to the property or facilities. Guests will also be charged for any items missing from rental units after checkout.
Garbage
Help us keep our property clean and practice Leave No Trace principles by depositing all garbage in the trash and recycling bins located throughout the property. Please do not burn trash, and please do not leave trash unattended outside on sites. Garbage pick-up is available at RV sites during the hours of 10 am – 2 pm for your convenience. Please kindly leave your trash at your site marker.
Laundry
Laundry facilities not available on site.
Parking
Limit of 2 (two) vehicles per individual lodging accommodation (RVs may have one towed or towing vehicle, plus one additional car). Parking adjacent to lodgings is not guaranteed. Vehicles must display the provided parking tag. Vehicles without proper tags are subject to towing at owner's expense. Vehicles must not block roads and must be in designated parking areas. The speed limit is 4.5 MPH. Parking on grass is prohibited. If your vehicle does not fit at your site, please park at one of our auxiliary parking areas.
Photography
Emberglow uses on-site candid photography for advertisements and promotions. Entrance onto this property constitutes permission to be photographed while on the premises and for any resulting photos to be used by Emberglow for lawful purposes without compensation or notification to the guest.
Tents on Sites
Primitive tent sites may have up to two (2) tents per site. RV sites may have one (1) tent per site. Rental units, including Primitive Treehouses, may not have tents on sites.
Trees
Trees and the shade they provide are an integral part of an enjoyable camping experience. However, even healthy and well-maintained, trees pose a natural hazard of falling debris, such as leaves and branches, especially during windy and/or extreme weather conditions. We do not assume responsibility for these natural hazards or for any property damage, injury, or other circumstances that may result. Please take this into consideration when parking at Emberglow and while enjoying the property.
Water on Sites
Our sites with water have water year-round.
After-Hours Assistance
For Emergencies, call 911. For urgent, immediate needs (plumbing issues, dangerous situations, unit access problems, etc.) between 6:00 PM and 9:00 AM, call the After Hours Assistance number listed on your map.
Alcoholic Beverages
All state/federal laws apply. Alcoholic beverage consumption is restricted to those 21 or older. Excessively loud, combative, belligerent, or disruptive behavior will not be tolerated at any time and may result in immediate ejection from the resort with no refund. Drink responsibly.
Campfires
Controlled campfires are permitted in designated fire pits. Fires must be supervised while burning and then fully extinguished. Only firewood (purchased on-site) and charcoal should be burned. Please do not cut live trees for firewood or burn trash. Fire pits may not be relocated.
Children
Children are welcome at Emberglow! Children under 8 (eight) should be directly supervised by an adult at all times. Parents/guardians are responsible for their children's safety and behavior.
Construction / Maintenance
Emberglow closes certain sites and areas of the property for landscaping and maintenance throughout the season. For your safety, please respect all areas blocked off with cones, caution tape, or other restricted access markings.
Drones
Commercial drones are prohibited. Personal drones are permitted only in the back pasture when it is not otherwise occupied. All state and federal laws and apply and adherence to them is the owner's responsibility.
Fireworks
Fireworks are prohibited on the Emberglow property.
Grills
Propane grills are provided at each of our lodging units as well as beside our pavilion. Fire cooking is permitted in provided fire pits. Personal charcoal and propane grills are permitted. Please use responsibly.
Motorized Transportation
Golf carts, electric bikes, dirt bikes, and hover boards are not permitted on the property. Electric golf carts are only permitted for the elderly or those with limited mobility with prior approval from our front desk. Golf carts must be driven by licensed drivers. Bicycles and scooters are welcome. Please ride at safe speeds and during daylight hours. Helmets are recommended.
Pets
Well-behaved, vaccinated dogs are welcome at Emberglow. Dogs must be declared at check in. For all sites allowing dogs there is a limit of two (2) dogs per site. In dog-friendly rental units, there is a $25 non-refundable charge. Should evidence of a pet be identifed in a non-pet friendly unit, a $250 fee will be assessed. On primitive tent sites and BYO RV Sites, there is no fee, but all campground pet Rules and Regulations still apply. Service dogs are complimentary. All dogs must be kept on a leash (not to exceed six feet) at all times, unless in the dog park or inside your unit. Dogs may not be left unattended at any time. Due to county regulations, dogs are not permitted in the pool area, Comfort Station, or grilling station. Animals may not be tethered to utility fixtures. Animal waste must be picked up by the pet owner. Dogs must be under control at all times for the safety of guests. Owners may be asked to remove aggressive, uncontrolled, or constantly barking dogs from the property at any time. Dogs may be rinsed with water only (no soap) on sites.
Pool
Pool hours are 10:00 am – 9:00 pm. Pool rules are posted at the pool and must be followed at all times. No lifeguard on duty and swimming is at your own risk. Glass and pets are prohibited at the pool.
Smoking
Absolutely No Smoking, Vaping, Tobacco Use, Etc. on Emberglow property. A cleaning fee of $200 will be charged to the credit card on file if there is smoking in a rental unit.
Theft & Loss
Campers are responsible for securing their personal property, including, but not limited to, their campers and contents, vehicles, tents, or any other personal property. The campground, its owner, agents, and employees are not responsible or liable for theft or loss of any kind, nor damage caused by acts of God, fires, floods, windstorms, explosions, lightning strikes, accidents, or vandalism. Campers are responsible for maintaining insurance on their campers, vehicles, and personal property.
Washing RVs & Cars
RVs and cars may not be washed or rinsed on property. Our staff can direct you to the nearest appropriate facility.
Weapons
Possession of weapons such as firearms, knives, chains, etc. while outside of a personal camping vehicle is not permitted on the property.
Inclusiveness
Any offensive symbolism worn, flown, or displayed on Emberglow property in any way is not permitted.  Examples include but are not limited to swastikas, the confederate flag, and profanity.
Signage
No political signage (flags/signs/etc) is permitted at any time.
Environmental Responsibility:
Leave No Trace
As an outdoor resort that respects and values nature, we appreciate the support of our guests in practicing Leave No Trace (LNT) ethics. For more information on LNT, visit this website: https://lnt.org/
Firewood
Due to issues surrounding devastating invasive species, all firewood must be purchased on-site. For more information on invasive species visit: https://www.ncforestservice.gov/forest_health/fh_firewood.htm
Changes to this Policy
Emberglow reserves the right to update Rules and Regulations at any time.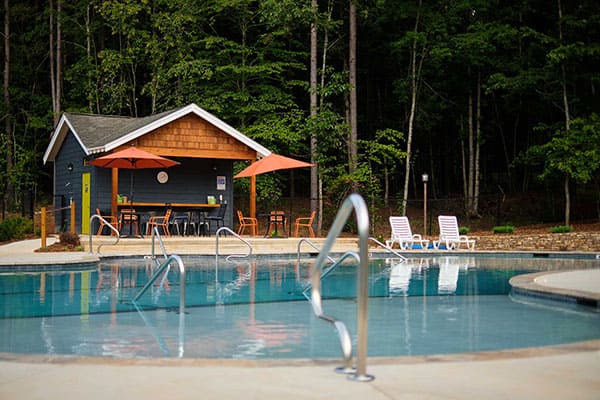 Camping, but make it comfy
Book your next getaway at Emberglow Outdoor Resort